Moss Peat Sod Collector
Type – III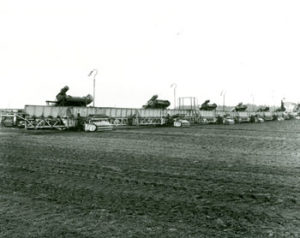 This machine was specially designed by Bord na Móna to suit our bog conditions and layout.
The purpose of the machine is to collect the dried moss peat sods from the drying grounds by hand feeding and convey them to the storage rick. Two passes of the machine clears a belt of 700 feet wide to form one rick.
The construction of the machine is unique, as it is carried on caterpillar type tracks which support it through hydraulic rams and facilitate travel over partly cut bog while maintaining the machine in the horizontal position.
The machine consists of a rubber canvas conveyor belt in two sections, the running gear of which is carried in robust structure, fabricated in four sections from square hollow section steel; this conveyor is suspended from high masts on either side of the main frame of the machine. The main frame is of rigid design to resist diagonal loading; fabricated in square and circular hollow section steel, all main members are pin jointed to facilitate dismantling for transport. The tracks comprise a frame work of castellated beam construction around which two conveyor type chains carry the steel swamp shoes.
In addition to hydraulically tilted tracks the conveyor sections on either side of the machines and elevator section are raised and lowered hydraulically.