Ridger Attachment
Type – III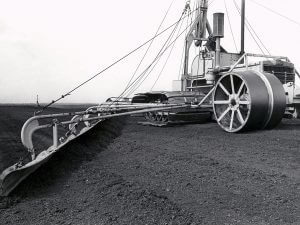 The purpose of this attachment is to angle-doze the comparatively dry milled peat to form it into a ridge on the field centre, in two passes.
The attachment is in the form of long, light, angle dozing blade, with generous sole plate along its full length, to support the blade on the bog surface, while an 'A' frame and tubular push rods radiate from the tractor frame to the blade.
The blade is made up in sections, with a hinge joint between each, to provide the flexibility required to follow the surface of the bog. The face blade is vertical, curving forward at the top, with stiffeners bracing it to the sole plate, push frame and tubes.
The push frame and tubes are pivoted on the tractor frame-work and suspension ropes from front and side masts on the tractor, are actuated by a hydraulic ram to lift the blade clear of the ground for idle travel and turning.