Our Land
Bord na Móna owns a variety of property, from city centre and commercial port locations to agricultural, forestry and peat production lands providing employment for local people. The future of our land lies in a wide mix of uses, with a strong emphasis on rehabilitation, conservation and alternative future uses, such as biomass and solar, where appropriate. Our biggest asset is not the buildings we own but the extensive land bank in our care.

Wind Energy
As our need for renewable energy increases, we are looking to wind energy to provide us with a sustainable source for the future. Bord na Móna currently has three commissioned wind farms, that are supplying energy to the National Grid; Bellacorick, Bruckana, Slieve Bawn (joint venture with Coillte) and Mountlucas Wind Farms. We have also recently received approval for another Wind Farm in Cloncreen, Co.Offaly. We have a strong track record of siting, designing and delivering wind farms within our cutaway peatlands.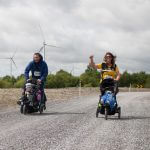 Solar Energy
ESB and Bord na Móna have launched an initiative to co-develop solar power in four locations in Roscommon, Offaly and Kildare, which will provide renewable energy to power the equivalent of 150,000 homes. This will add diversity to Ireland's energy portfolio and help achieve the EU renewable energy targets.
Community Amenities
Lough Boora, Mountlucas Wind Farm, Loch an Dochais, Derryarkin Motocross, and Birr Community School Trust are all examples of Bord na Móna land being used for the benefit of the local community.
We have developed successful relationships with bird breeding groups, scouting troops, model aeroplane clubs, motocross clubs, educational trusts, walking groups and a variety of other country pursuit clubs which thrive on the unique opportunity Bord na Móna can provide in terms of site location, scale and variation in vegetation and ground conditions.