Cutaway Boom Attachment
Type – Mini Boom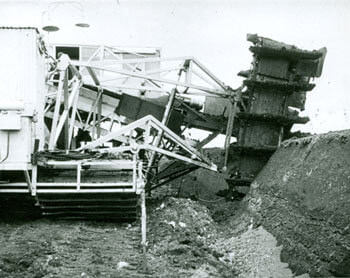 This attachment was developed for the Type VI and Mitre Boom machines to enable them to cut the banks from the cutaway level and spread on the cutaway.
The attachment comprises a short boom complete with catchment conveyor overhung from the main machine by wishbone frames.
The boom has a light frame work fabricated in square hollow steel sections, within which the motor, gearbox and chain drive, common to the original boom, are housed. The sprockets and bucket chain are as used on the Type VI machine but the buckets are wider to provide greater flexibility in maintaining complete spread of turf in varying depths of banks.
The boom supporting wish-bones are fabricated in square hollow steel sections of generous proportions, the pivots of which are so arranged to maintain the same angle of the boom relative to the bank for various depths of cut. The upper wish-bone frame is supported on a hydraulic ram from the side of the main machine which is operated by a valve from the drivers cab providing convenient control of cutting depths and lift for idle travel. The pivots of the lower wish-bone frame are carried on arms from the main machine and are hydraulically adjustable to alter the slope of bank cut.
The catchment conveyor supported from the boom frame is a rubber/canvas conveyor belt running on conventional driver, end roller and troughing idlers. The section of the belt receiving the turf from the buckets is supported on a series of slides of self-lubricating nylon to prevent deflection of the belt and more efficient sealing. The conveyor has independent motor/gearbox drive. The catchment conveyor discharges into the original scraper conveyor of the main machine.
The attachment is readily fitted to or removed from the machine by five pins.