Chain Saw Excavator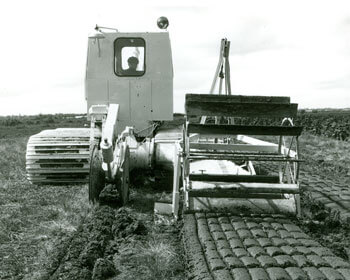 A machine of compact, sturdy construction with a high output for its size which is used in Bord na Móna primarily for drainage with turf production as a secondary feature.
The tractor unit is powered by a diesel engine, has proprietary transmission gear boxes, and final chain drive to caterpillar type tracks.
The excavator, macerator and spreading equipment is carried on the rear of the tractor unit while a guide roller is carried on the front. All this equipment is lifted and lowered by hydraulics.
The turf is excavated by a high speed chain sword carrying cast steel teeth, and discharged by centrifugal force, at the upper sprocket, into a screw/conveyor/macerator unit. This unit extrudes the turf through a fan-tail spout, with adjustable outlet, onto the spread ground.
A series of cutting discs and a marking frame divides the layer of turf into the required sod size.
After the first cut is made, using the clutch and brake steering on the tractor unit, the front guide roller can be lowered into the excavation made, to steer the machine for subsequent cuts.
A pair of loaded rollers are trailed behind the cutting sword to close the top of the excavation just made, so preparing the spread ground for the next run of the machine. In this way all available bog can be covered with spread turf, leaving only nominal spaces between the extrusions.