Digger/Loader
Type – Hy-Mac 58OBT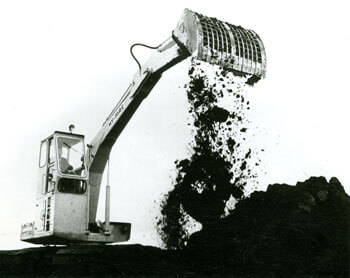 A machine of proprietary manufacture specially adapted for our working conditions by the makers. It is used for excavating outfalls in peat and mineral soil and is also used as a loader for sod peat, moss peat and milled peat when fitted with an especially large capacity grab bucket.
The standard machine is carried on a special robustly built main frame, fabricated in tubular and plate steel, to accommodate the wide swamp shoes necessary for soft bog operation. All drives are hydraulic including tracks, turntable, arms and bucket action.
The main platform on which the engine ballast, boom and driver's cab is carried has infinite rotation. The main boom arm is raised and lowered on two hydraulic rams while the dipper arm and bucket are each activated by a single ram.