Housing
2nd March 2018/Community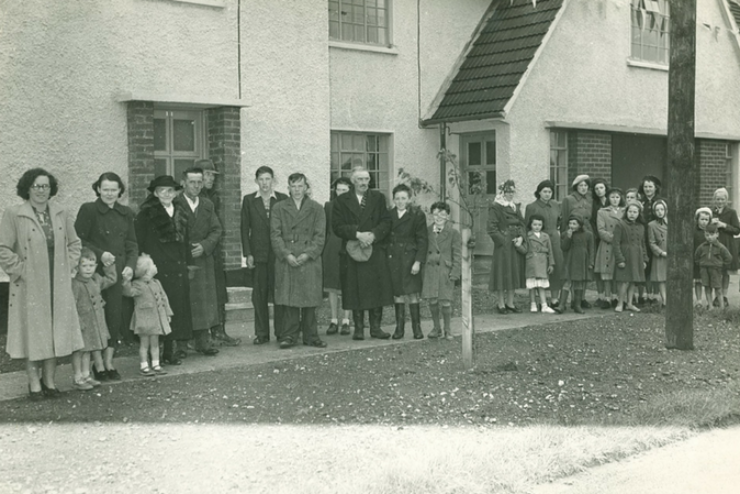 With all the discussions about housing today, people may not know that in the past Bord na Móna built houses for its employees.
From the 1930s we built a substantial number of houses for managerial and supervisory staff who were liable to transfer from one works to another and had no choice as regards where they lived.
The idea of providing houses for general employees was first discussed in 1946, it was proposed that county councils would build cottages, but it quickly became clear that county councils would not build cottages for Bord na Móna workers.
In 1950 proposals for nine housing schemes were submitted to the Department and the Government approved the cottage schemes 'to take the form of village schemes'. The Turf Development Act 1950 gave authority to Bord na Móna to build the houses and let them to employees and development of the housing schemes began in 1951 and finished in 1957.
In total almost 600 houses were built, most of them in eight villages. The Minister at the time, Daniel Morrissey, was originally opposed to the building of villages but agreed with the idea after he was briefed on the extra cost of building once-off houses. In 1954 it became Departmental policy that all further houses required in the future would be built by local authorities and so Bord na Móna's involvement in house building ended with the completion of the last estate in 1957.
The housing schemes brought a huge economic benefit to rural areas that had been hit by ongoing emigration. During the 1960s the emphasis was on disposing of the houses and in 1963 surplus houses were sold to county councils for the net cost of building them. The sale of houses to employees began in 1975 and today we have no involvement in the schemes at all.
If you would like to be notified of when we post our blog, please enter your email address in the bottom right hand side of the page. 
Subscribe to our Blog
Subscribe to this blog and receive weekly emails of new posts