Bord na Móna GAA Connection.
23rd November 2017/Community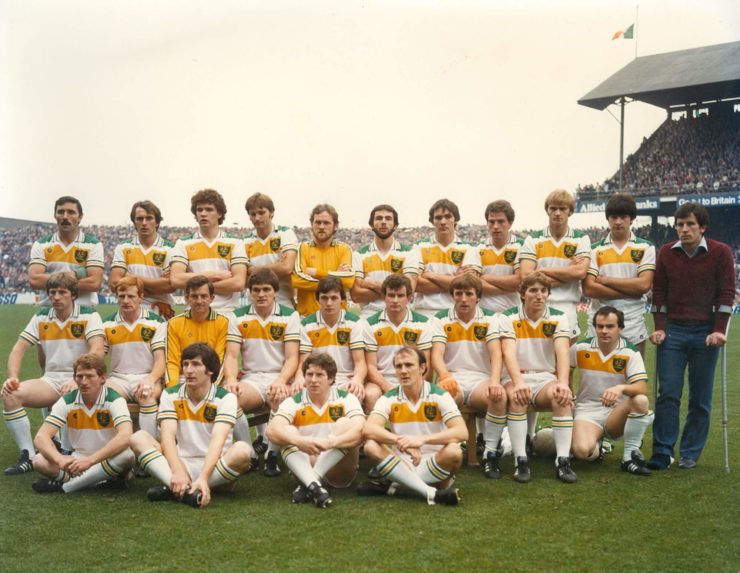 We recently announced a ten year sponsorship deal with Offaly GAA which saw the county grounds in Tullamore officially renamed as Bord na Móna O'Connor Park. We have a great GAA tradition in Bord na Móna going back to the 1940s when we set up a committee under official GAA rules and even entered hurling and football teams in Kildare GAA competitions. Our hurling teams won the Kildare senior championship on six occasions. William Stapleton, who was chief camp superintendent and a veteran of the War of Independence and the Civil War, organized the Turf Board GAA Committee. He was Chairman, Secretary, Treasurer, PRO, fixtures chairman, referee assessor, referee, disciplinary officer, organized the pitches, resolved disputes, selected teams, managed teams, organized transport, bought trophies, threw in the ball, wrote the match reports, enforced the ban on foreign games, dealt with the Kildare Co. Board, organized the after match food and entertainment and presented the trophies. He also managed all the camps at the same time, ran the boxing club and the annual athletics competition. Don't know where he found the time to do his official job. Regular complaints about the GAA in our company magazine were, the cost of training inter-county teams, supporters blaming referees, over use of the hand pass and the allocation of tickets for All Ireland Finals. Some things never change. We also had great inter works competitions over the years which ran from 1959 until 1991. Some of them even had a bit of football, although the ball was often optional. There was one game when the ball got lost in the bushes and after a few minutes of searching one of the crowd shouted "Never mind the ball get on with the game". We're lucky we never had an inter works hurling competition, the UN would have had to intervene for humanitarian reasons. Anyway during the championship season you'll hear all sorts of experts giving their opinion, there'll be talk of all sorts of curses, misfortunes and whatever you're having yourself. If the swallows fly high the All Ireland will be won by a team whose captain has a hairy chest, but enough about the ladies competition. Every self-respecting county has a curse placed by a priest for one reason or another. Who knew priests had such power? As a possible prediction what about Mayo for Sam and Galway for Liam McCarthy? Stranger things have happened but I don't think both titles have ever gone to Connaught at the same time. Although with Sam we might have to find a priest willing to put a curse on the Dubs.
Subscribe to our Blog
Subscribe to this blog and receive weekly emails of new posts