LHT Tractor
Type – II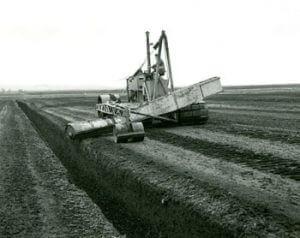 This tractor was designed to operate miller and ridger attachments in accordance with the Peco system of winning milled peat.
The machine consists of a simple main frame with caterpillar type tracks and front steering rollers. It is powered by a diesel engine fitted with automotive type clutch. The transmission is a special speed change gearbox with P.T.O. shaft, and a worm driven bevel gear differential unit, housed in a conventional back axle. The half shafts from the differential unit are coupled to the track drive sprockets direct.
The main frame will accommodate either of two engines, the size depending on the attachment to be used with the tractor.
Steering is manual by hand wheel through a worm reduction gearbox, draglink and track rod. The front axle swings in the vertical plane to avoid undue distortion of the tractor frame. The front rollers are fitted with a circumferential ring of steel angle section to obtain steering adhesion.
Type – III
This tractor, fitted with attachment, is used for ridging the milled peat into the centre of the field.
The tractor is the half-track type with front steering rollers.
The main frame is fabricated from standard steel angle and channel sections. The tracks are single chain cast link type with timber swamp shoes bolted on and runs on cast sprockets and intermediate supporting rollers. The front steering rollers are spoked with fabricated steel rims and cast iron hub and are mounted on stub axles on a pivoted axle beam which swings in the vertical plane. Steering is effected manually through worm reduction gearbox, drag link and track rod.
The tractor is powered by a water cooled diesel engine fitted with automotive type clutch.
The transmission consists of a speed step-up primary gearbox of special design, a standard agricultural tractor change speed gearbox and differential assembly with a chain reduction final drive between the standard transmission unit half shaft and the track sprockets.
Since this tractor is used only for ridging operations during daylight hours no electric generator is fitted and the engine is hand started.
A hydraulic pump assembly is incorporated in the standard agricultural transmission unit and this is used to actuate the attachment hydraulic system.