Ditching Attachment – Milled Peat
Type – Disc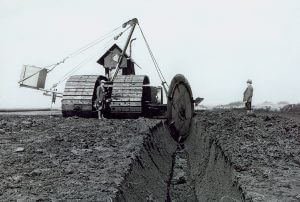 The purpose of this attachment is to cut the drains separating the milled peat fields in development bogs and deepen existing drains in production bogs.
The attachment consists of a rotating cutting disc set at an angle to the line of travel, carried on an arm from the tractor unit. The arm and disc are controlled and supported by wire ropes and a hydraulic ram passing over a mast on the tractor unit and anchored to a projecting ballast box on the other side of the tractor unit.
The disc is driven from the tractor main gearbox P.T.O. shaft through a bevel gear reduction box and universal propeller shaft. On other machines a chain drive reduction is inserted between the bevel gearbox and universal propeller shaft to achieve a slower disc speed.
The disc has cutting blades and a stationary shield deflects the flying spoil away from the machine, and spreads it evenly over the adjacent field.