Clonsast from Memory – In the Early Days of the Turf Development Board
Taken from: Scéal na Móna, Vol.13, No.37, July 2001, p.20-23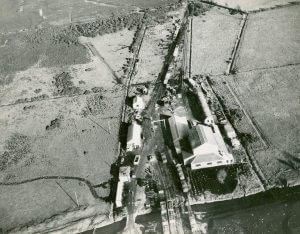 Since Clonsast seems to have now been abandoned as a Bord na Móna entity, for the benefit of modern readers it is perhaps necessary therefore to state that it was situated about 41/2 miles from Portarlington en-route to Walsh Island in Offaly, a place well known for its Offaly footballers -the Connors, Mulhalls, Mahons, etc. In the early days the road to Clonsast was a bleak and windy one, devoid of trees or shelter belts. When you reached Cushina the road turned at right angles to the left and into the Works, passing on the way the hostel which housed hundreds of employees, many from places distant. The Clonsast Office, the hub of its activity, was a short distance further down the road and a bungalow type building. Like most Bord na Móna offices it had a central corridor with offices on both sides and a main general office or reception area – turf burning stoves supplied the heat in winter. Bicycles were then the only source of transport from Portarlington, each with their saddle bags holding oil skins, pull-ups and headgear, such as the later LDF (Local Defence Force -the pre­runner of the FCA] caps which offered suitable protection against the elements. The company built a cycle shed beside the offices and my first bike was a Rudge which I obtained from the well-known racing cyclist Alo Donegan of Portarlington, it cost £5 and was paid for in instalments of 5 shillings [25p] a month.
Behind the Offices was a meteorological (weather) station and it was part of my duties to take readings there three times a day ­recording max., and min., temperatures, wind velocity, sunshine hours and rainfall measurements.
I was first employed as a Junior Clerk at a wage of 10 shillings [50P] per week with the promise of "great prospects". Having paid my National Health and Unemployment insurance stamps, it left me with a cheque for 8 shillings and 4 pence [c.42P]. I doubt if that amount covered the cost of the sandwiches my mother made for me each day. Lunch was then always eaten in the office – the large desk was cleared of all paperwork which also allowed for cards or table tennis until lunch hour was over. During the very warm summer days I would swim in a nearby bog-hole in my birthday suit -you dried yourself after as best you could without towels but I never caught cold as a result!
A description of the office duties will perhaps give a clearer indication of conditions then. We started work at 9:00 AM each day, Monday to Saturday. We were supposed to have a half day on Saturday, but if needs be we had to work it without overtime pay as part of our "loyalty to the Board".
We finished each evening at 5:30 PM, sometimes working later, and in adverse weather conditions we stayed in the Hostel where we had our supper and went to bed under grey army-type blankets to give us warmth -on these occasions we were perhaps comfortable through tiredness and usually slept well.
The office was a well-run and smooth operation under the direction of the Board's Chief Accountant, Bridget Flynn in Head Office.
Once a year Miss Flynn would travel down to Clonsast from Pembroke Street, not to interview staff individually, but to obtain the recommendation of her Branch Accountant on each member of staff. If you were lucky you would receive a memo from Head Office in due course -which in my particular case said "The Board are pleased to increase your salary by £13 pa as from specified date ­signed B. Flynn, Chief Accountant". In those days there was no Union in the office. Operational costs in the Works were clearly identifiable by means of a code system having Main Heads and Sub Heads. For example for Drainage the Main Head was 10, with excavation drain no 1/10 having a Sub Head 1001/1010. Machinery Repairs had Main Head 25, while repairs to Bagger No 1 ­was Sub Head 2501. Outside areas had a Main Head 72, with a particular branch, for example, having Sub Head 7217. As can be seen, each operation was identifiable and therefore costings were actual and accurate – it was a unique and successful method.
Operational work in the Works was all done on piece rate, generally on a price per metre basis. Opening drains was of course very necessary in the developmental stages and that work was calculated on the extent of piece work done -the length width and depth was calculated by longhand at a specific price per cubic metre (of course there were no computers, electric or mechanical calculators then). We did however have a ready reckoner book which gave assistance in calculating – the harder the men worked on the bog, the more they earned. There was little if any time rate work, other than repairs or non-productive or non-developmental work, and there was no wet time.
As soon as the season commenced each year there was a substantial influx of "imported" workers from various parts of Ireland, but mainly from the West ­ from such places as Kiltimagh; Faugh-Finney, Castlebar and Connemara. These workers were brought by rail to Portarlington Railway Station where they were collected by the TDB lorry and brought to the reception office at Clonsast. With the numbers of Joyces, O'Malleys and McDonaghs confusion was inevitable, but to eliminate this each worker received a control or Works' number. This made him identifiable at least on pay day and I was fortunate in being able to memorise all of their control numbers.
Each worker was given Hostel Accommodation on the basis of 17 shillings and 6 pence [87.5p] per week, which included breakfast sandwiches for lunch, and an evening meal, all of which were deductible from the wages. There was a shop attached to the Hostel, where the workers, if they had any money, could buy cigarettes, tobacco, minerals, sweets, toilet requirements and tea cakes – there was no alcohol. Before they could work however they had to purchase rubber boots, tools, etc., hip boots cost 15 shillings [75P] knee rubber boots cost 10 shillings and 6 pence [52.5p] and shovels cost 4 shillings and 6 pence [22.5p]. In many instances the net pay after deduction for these items, together with deductions for Unemployment and National Health Insurance, was very small indeed. All pay was by cheque, which could be cashed in the Hostel shop – it was therefore not unusual to draw cheques for as little as 10 pence [4p], which of course caused problems in bank reconciliation in the office.
As soon as the cut turf was partially dry, local workers, with the help of their wives and families, and casual workers, would undertake the back-breaking, skin splitting, fingernail breaking task of "footing" the sods. This too was a piece rate operation, paying in the region of 15 shillings [75p] per plot of a given dimension. It was therefore possible for these employees to earn what was considered "good money" when the weather was suitable. I too tried doing that job during my holidays, but I have no doubt it once again cost more for my sandwiches than what I earned -also I had to get up at 6:00 AM to catch the locomotives and be taken to the bog location when the footing took place – an experience I was loath to try again. Unfortunately mechanisation for this operation was yet to be invented.
Fuel Importers were then taking the majority of available saleable turf for storage in the Phoenix Park in Dublin. The lorries would arrive at the marshalling yard in Clonsast and following weighing in ( to establish their unladen weight or "tare") would proceed to the loading elevator and being filled return to the weighbridge again to establish their "gross" or laden weight – thus it was possible to ascertain the "net" weight of the load. This was all done by the weighbridgeman, Arthur Hutchinson. Apart from some local lorries such as those of Mick Poole from Rosenallis, McHenry Brothers of 16/17 Nth Brunswick Street in Dublin was the main haulier. McHenry's three Dodge trucks with trailers were driven by John Egan, Barney Egan and Stephen Kelly (all from Ferbane in Offaly). It was possible for each McHenry truck to do up to 9 loads a week to Dublin. GSR tractors and trailers also transported turf to Portarlington railway station for delivery to Dublin.
It was sometimes possible to obtain a lift to Portarlington on the McHenry's lorries, by tying bicycles on the back of them, and occasionally you might get a "tow" from the GSR tractor / trailer by catching on to its rear – every little thing helped. Some time later motorised transport started appearing outside the office, "Austin 7s" "Morris 8s" "Standard 10s", "Ford Anglias". Petrol was then costing 2 shillings and 6 pence (a half crown) [12.5p] per gallon with a dash of RED X – a fill of petrol was therefore costing less than £1. Car pooling was fully organised – the hardships endured in the early years were slowly but surely coming to an end. Staff could then purchase turf, as distinct from briquettes, at a discount price – turf was then available from the Works at 15 shillings and 9 pence [c.78p] per ton. It was possible to engage a "GSR "cabless" tractor with a creeled trailer (usually driven by Jack Gaffney) capable of carrying a full load of up to 7 tons of "selected" top quality turf – unloading it at the house for £3 per load. That was much cheaper and more convenient than cutting and harvesting one's own fuel. While many foreign visitors were brought to Clonsast each year, easily the most memorable visitation was that of Eamon De Valera. Every Good Friday, "Dev", accompanied by the Managing Director, C. S. "Todd" Andrews, both of equal stature, both dressed in long, almost ankle length black coats and both with wide brimmed black hats, would visit Clonsast for a tour of the bog. We were reliably informed that it was deemed a great privilege to shake their hands on these occasions. They toured the bog on a small wooden rail car built on 4 rail wheels and powered by a petrol-driven Baby Ford engine with two gears –forward and reverse. Seating was two wooden bench seats, with no padding.
I have a number of Staff Personnel lists, unfortunately too lengthy for inclusion here, for Clonsast between 1943 and 1950. Please forgive me for occasionally not remembering Christian names from a time when people were addressed as "Mr", "Mrs" or  "Miss". Here is the list for  1943/45:
Alban O'Kelly, Manager; Mc Farland; J. Dunphy: T. Farrell; L. Cribben; J. Kearns (myself); Miss Browner; Mrs Martin; P.B.O'Sullivan (Engineer); Eugene Gillespie, F. Corish, P. Tierney (Draughtsmen); Sean O'Neill, Camp Superintendent; Miss M. Dolan, Shop Clerk; J. Mc Govern and J. Dignam (Maintenance men); T. McEvoy (Stores). Brendan O'Kelly the son of Alban O'Kelly, trained for a while in the office before becoming a Works Supervisor -he later became Vice President of Aer Lingus US Sales -I met him in JFK Airport New York some years later -his father eventually became a Papal Count. One of my best memories of Clonsast was of a recitation Count O'Kelly gave at various parties ­the closing lines were as follows ­"The razor blade was of German make, but the sheet was of Irish linen".
Other Clonsast people worth remembering are Foreman P. Gorman (Control No 1); Gangers: J. McGettrick; E. Murphy; W. Hendry; E. Cullen; P. Shine (Father of the singer Brendan Shine); J. McDonald. Locomotive Drivers, M. Danagher and P. Murray; Loading Elevator Chargehand, C. Dunne; Canteen/ Hostel Cook, W.McNamee; Helper W. Danagher, and in the Workshop, Chargehand, J. Holmes; Assistant Chargehand, H . O'Reilly; Fitter T.McMahon; and Fitter / Welder S. Donaldson. I still can list off all of their control numbers from memory.
This article is of course written entirely from memory so should there be inaccuracies I apologise. I resigned in 1950 as Chief Clerk at Clonsast, to take up an appointment with Clover Meats Limited in Waterford, where I later became Group Export Sales Manager, a position which took me to many parts of the world until 1976 when I joined Arthur Guinness and Sons in the meat division in Rathdowney in Laois, a position from which I eventually retired. As a matter of interest, the only time I ever visited Head Office in Bord na Mona was when "Todd" Andrews ordered me to meet him and explain my reasons for resigning.
JOHN KEARNS, FORMER CLONSAST CHIEF CLERK