Bord na Móna Peat Briquette Design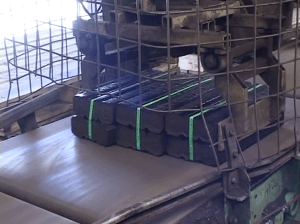 With three segments spelling out BNM, the Bord na Móna Peat Briquette is one of the most iconic Irish designs. But how did the design come about?
It's a true example of early product design led by our in-house engineers. During the 1940s and 1950s, the company tried several different designs, in a quest to innovate and perfect an increasingly popular product.
Briquettes made in the Lullymore factory were originally a 'saloon' type shape. This was a rectangular shaped briquette with some curving on the four edges. A picture from the factory in Lullymore shows loose briquettes stacked up, with the word 'Lullymore' stamped on them. As we know…the wording would later become BNM.
It's not known exactly when the three segment peat briquette was fixed upon but we do know that by the time factories in Derrinlough and Croghan opened (in 1960 and 1961 respectively), the three segment shape had become standard. A technical paper dating from the early 1960s states that, "a demand for small industrial briquettes led to the use of segmented shape which yielded a higher quality briquette than the saloon form and these are now standard."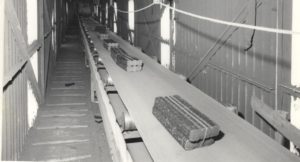 Small industrial briquettes were also known as brickeens and they were used extensively for industrial boiler applications. The three segment briquette could be used in its entirety to fuel a fire or it could be broken up into three brickeens, for industrial use.
At the time, Government policy was that all public buildings, hospitals, schools, even Áras an Uachtaráin and Dublin Airport, were heated by machine turf or brickeens.
So there was a very practical reason to have a three segment shape and it was Bord na Móna engineers who came up with the design to achieve this. Their testing showed that the three segment shape yielded a higher quality briquette than the saloon form and so it became the standard briquette…and remains so today!
Did you Know?
Bord na Móna experimented with a four segment shape but it didn't last the test of time.