Bord na Móna in the Ads
Taken from: Scéal na Móna, Vol.13, No.52, August 2004, p.14-18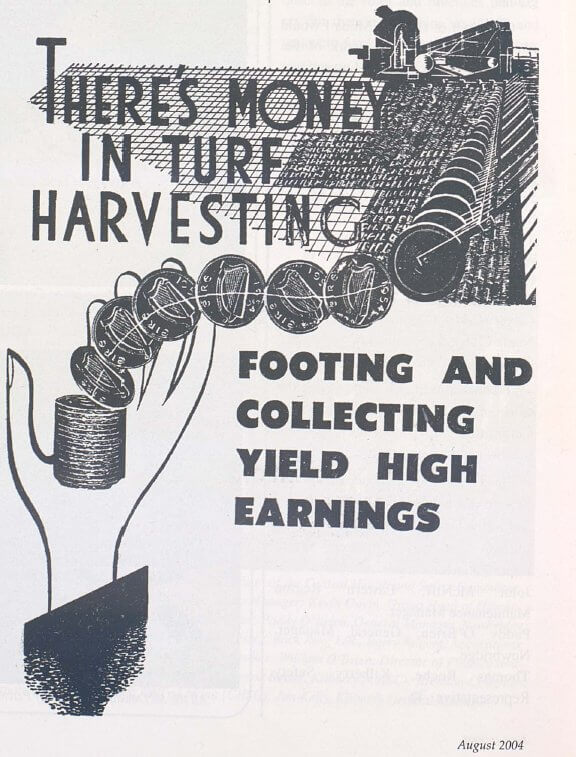 Just before last Christmas, Sean McCabe, the Curator of Portarlington Town Museum, presented Sceal na Móna with a comprehensive collection of early Bord na Móna advertisements spanning the years 1954 to 1961. In the early days of pre-television, the vehicle for most advertising was newspapers both local and national. Eye-catching impact, when newspapers generally didn't have colour sections, could then only be gained through using snappy line drawings of the type shown here. To a certain extent, in a somewhat detached way, the progress of Bord na Móna can be charted through its ads, particularly its printed ads that didn't require drawings.
Bord na Móna's peat has often been used for animal bedding, such as that for thoroughbred racehorses and in one particularly interesting case in a bull testing station outside Newbridge. The ads however show that one of Móna Moss Peat's most profitable applications in the 1950s and early 60s was as Deep Litter in the poultry industry. The ads of the time read:
"Móna PEAT MOSS FOR DEEP LITTER More Eggs: From Fewer Birds: At Lower Cost.
That is what the DEEP LITTER Sytem can mean to every poultry keeper. Correct methods of housing, feeding, ventilation, and lighting must all be provided. Litter of the right type however, properly managed, is the foundation stone of the whole system. When it comes to choice of litter, Móna PEAT MOSS is so far superior to every other type of litter that there is really no choice. Móna Peat Moss is still dry; is still warm; is still "working" when other litters are already damp and dead. Supplies are obtainable from your local dealer or direct from Bord na Móna at 26 Lower Hatch Street, Dublin."
And in due course Bord na Móna published the booklet entitled "The Deep Litter System of Poultry Keeping" by Joseph O'Leary, B. Agr. Sc, explaining how the DEEP LITTER SYSTEM of egg production worked. The book sold for one shilling.
Among the most interesting advertisements appearing in the national press of the time were those seeking tenders for the supply of provisions to the various Bord na Móna hostels, and here is a typical one:
"TENDERS FOR FLAKE MEAL. Tenders are invited for the supply of Flake Meal to the following Bord na Móna Hostels -Timahoe North, near Enfield, Co Meath; Timahoe South, near Robertstown , Co Kildare:
Ballydermot, near Rathangan, Co Kildare; Glashaban, near Edenderry, Co Offaly; Attymon, near Athenry, Co Galway …."
Sometimes those notices listed a veritable hamper of goods in alphabetical order, illustrating what our great bygone hosteller; Frank O'Neil (now living in Offalia House, Edenderry) meant when he said "They fed us well". Here is a typical list of goods from an ad of December 1954:
"Beef (roasting and boiling); bacon; bread; butter; brawn; carrots; cabbage; cheese; cornflour; jellies; ox liver; milk (tinned); margarine; marmalade; onions; pepper; pearl barley; peas; parsley; prunes; raisins; rice; sausages; salt; sugar; sago; semolina; swede turnips; tea; tapioca and potatoes".
Obvious absences, such as custard [Boora veteran particularly remember the vast vats of custard that were made at that hostel] or currants, would appear in later versions as if they had been inadvertently omitted from the shopping list.
Todd Andrews had obviously already discovered that army rations were "Like a daisy in a bulls mouth" to bog workers, but what happened to the mountains of leftovers? An ad of 1955 provides the answer:
"Tenders are invited for the purchase of Swill from Bord na Móna hostels"
So we can imagine a pre-supermarket competitive age, when butchers and bakers, etc., attended the various hotels in the vans and the local pig farmers watched out for the accumulated leavings. Perhaps our modern chipshops, hotels and supermarkets, etc., should start up a swill collecting business, or would that contribute to BSE?
Footing and Collecting Yields Big Earnings
Easier footing -new mechanical disc cutters attached to turf cutting machines simplify footing operations and enable ordinary workers in Piece Rate to earn at footing high wages. All footing operations are at Piece Rates. Free travel warrants will be provided from any part of Ireland to the bus stop or railway station nearest the Works from selected applicants, Board and comfortable accommodation can be provided if required at hostels adjacent to the Works for 38/6d a week".
Those often poorly composed ads were for seasonal employees between 18 and 55 years of age and the active works then were Timahoe; Ballydermot; Clonsast, Mountdillon and Attymon. The turf cutting machine in question was of course the bagger with its "new mechanised disc sod cutters", but how attractive the ad made the horrible job of sod-collecting appear -small wonder that some  men used their travel vouchers to return home after a few days! The rates of pay of the time are perhaps of interest, although we have to wait until July 1955 to see the rate for bog workers appear in an ad. Permanent bog workers had then received an increase in wages from 2/-per hour to 2/2d, with piece rates being proportionally increased. Later ads would state that workers on Piece Rate could earn the equivalent of "at least 3/- an hour". The early job vacancy notices for the various other categories of workers then were interesting in that they show the rates of pay of the time. In the following the first figures shows the entry rate, followed by the annual increments and finally the top rate:
"Junior Electrical Engineer £525-£26/10-£858 (1954)
"Junior Mechanical Engineer £525- £26/05-858/15 (1954)
Mechanical Design Engineer £800-£31/10-£1173/15 (1954)
Experienced Mechanical Engineer £750-£30-£1150 (1954)
Experienced Civil Engineer £750­£30-£1050 (1954)
Assistant Land Inspector (B Ag Sc) £900 -£30-£1200 (1955)
Surveyors £5/10s to £7/4s per week according to experience (1955)
Fitters 3/10d an hour (1955)
Turners 4/3d an hour (1955)
Resident Civil Engineer £14/14 per week (1955)
Electricians £10/16d per week (1955)
Temporary Junior Engineers £9/9s to £11/11s per week (1955)
Bog Workers 2/5d per hour (1956)
Junior Chemical Engineer £600-£30­£1050 (1956)
Mechanical Draughtsman £665-£21­£818 (1958)
Briquette Factory Supervisors, continuously rotating shift, £14/6s per
week (1956)
Cost Accountants £446-£25-£976 (1959)
Librarian (Newbridge) not less than £600 pa, depending on experience (1959)
Laboratory Assistant £312-£21-£731 (1960)
Legal Clerk £330-£1055 (1960)
Technical Information Officer £675­£35-£1350 (if male); £600-£25-£1100 (if female) (1960)."
On occasion the early job vacancy ads carried the suggestion that:
"Candidates with service in the Defence Forces or Auxiliary Defence Forces, should furnish details of such service in their applications", which could be expected following the Emergency years in an organisation run along military lines. Fitters were then either Machine Erection Fitter Welders; General Bench Fitter Welders or Diesel Engine Fitters. Both Fitters and Turners were on the same rate of pay by the end of 1955. The title "Surveyor" was never used, always "Young Men Wanted for Survey Work" was advertised for. In August 1955 a General Handyman was advertised for who would operate the central heating boiler and be capable of carrying out simple wood­working, glazing and painting repairs and do lino-laying -the wage offered was 135/-a week. And obviously the young women working in our industry today would be appalled at a job vacancy ad which specified that a female would receive less for the same work as a male, and rightfully that even raised hackles back then. In one ad, of August 1956, the company sought the services of Hollerith Punch Operators, which in effect was its first venture into computerization. The Hollerith system involved perforated punch cards for storing information that could later be fed into a computational machine and the results analyzed mechanically. These punch cards were the first example of the mass storage of electronic data.
The acquisition of bogland and notices of major bog alterations such as the development of railways, etc., appeared as ads that were preceded by the caption: "Bord na Móna-Notice of Deposit of Maps, Plans and Books of Reference -Turf Development Act 1946". The maps, books, etc., would then be deposited in the local Garda stations or libraries for inspection by interested parties before the acquisition or development. The notice, for example, for the acquisition of Blackwater Bog appeared on April 21st 1955, and for the development of Attymon (Clonkeen) workshop and loading yard site on November 12th 1955.
Other notices of historical import were those seeking tenders from building contractors regarding various contracts such as the building of "staff houses". In these modern affluential times a person could hardly guess the occupation of the owner of a house by looking at it, but some early Bord na Móna houses were categorised in tender seeking notices as the following types -"Manager" "Acct (obviously Accountant)" and "Supervisor". One notice, of September 1955, told of a worthwhile proposed development at Mountdillon:
"Tenders invited from competent Civil Engineering Contractors for the erection of a steel girder bridge, 386 ft long, consisting of 8 spans, including Bascule lifting span, on concrete pier foundations over the river Shannon approximately 21/2 miles upstream from Lanesboro' in Cos Longford and Roscommon".
In January 1958 tenders were invited "from competent public works contractors, for the erection and completion of Boora Briquette Factory at Derrinlough in Offaly".
Since 1954 the Lanesboro (Mountdillon) bogs had been producing Machine Turf which cost 4/-a cwt; 37/6d a half ton and 72/6d a ton when delivered in sacks. Lorry loads of approximately 6 tons cost 65/-a ton when delivered to within 20 miles of the Works and 67/6d a ton when delivered 21 to 30 miles. Alternatively the purchaser could bring his own lorry and receive turf at the ex-Works price of 54/6d a ton. There was no company-wide standardization of prices though, since Attymon was then offering Machine turf at better prices. Machine turf was then used by many factories in their central heating boilers and a few Irish Times editions carried details of the many companies that utilized this fuel. One was Weatherwell Tiles of Clondalkin, Co Dublin, the firm owned by Aodhagan O'Rahilly (who was known in Dublin as "Mr Weatherwell") Bord na Móna's Chairman.
Occasionally Bord an Móna would acknowledge the loyalty of its customers by placing special ads in the newspapers about them, for example, congratulating Comhlacht Siucra Eireann  on its 25th Anniversary in 1959 for being "large users of National Fuel, including Machine Turf'. Or the publication of an extract from a brochure by W&R Jacob & Co Ltd on why they chose to install a "TURF BURNING INSTALLATION FOR STEAM RAISING".
Proudly the company issued the following notice in January 1960:
"A DRIVING FORCE. In the situation which will face Ireland from 1960 onwards, Bord na Móna will play its full part by providing cheap fuel for industry, thereby helping Irish products to remain competitive. The use of turf in industry helps to keep Irishmen employed at home".
And in the home Bord na Móna ads recognized the housewife as a valuable customer -in October 1957 the company launched a Touring Roadshow on the "Efficient Use of Turf in the House" in the Town Hall Newbridge. The show had a comprehensive display of turf-burning appliances; with films and exhibitions on the development of the turf industry ­it travelled the country during the following two years.
On the 13th of September 1957 Bord na Móna took out its first Gaelic ad in Inniu (The Irish-language weekly newspaper which was first launched as Indiu in 1943 but was called Inniu from 1954 on).
"Teas don Teaghlach So -Iasta So -Ghlanta So Mholya ar a theas Moin Inneal
Long eolas a dioltoir Cnaithe dod Cheantar, no ar Bhord na Móna, 28/32 Sraid Phembroc"
A later ad would refer to Móin Inneal (Machine Turf) as "Móin Inneal-Bhainte".
In July 1959 Bord na Mona took out an ad celebrating the 200 Anniversary of Arthur Guinness & Son Ltd, not because its employees consumed the black stuff, but because that firm "had helped to develop another great Irish industry… by investing £750,000 toward the erection of two briquette factories [at Derrinlough and Croghan] and with whom Bord na Mona founded a new Chair of Microbiology at UCD"
The first Bord na Móna briquette ad had appeared in August 1953 when tenders were invited from those wishing "to obtain allocations of baled briquettes for the 1955/56 season" to apply to the Company Secretary. The first comprehensive Bord na Mona briquette ad appeared in May 1956:
"Supplies of Turf Briquettes are now available for general sale at Lullymore Factory, Carbury, Co Kildare and may be purchased on loose or baled form as required at the following prices: Loose (per ton loaded) 80/-[£4] Baled (per baled loaded) 1/3d." The loose briquette market was huge apparently back then.
The first Bord na Móna horticultural peat ad appeared in October 1957, in the evening newspapers.
"Gardeners -now is the time to prepare your beds for the spring. MONA PEAT MOSS is now available in the new Polybale and Minibale packs and is the perfect soil conditioner for the urban gardener.
It's easy to handle; Fits on the boot or seat of your car; No mess or Dirt; High Compression by coverage from size of pack".
The Minibale sold for 6/6d and the (triple size) Polybale for 15/-. Later ads would suggest that packs might be bought a Christmas gifts.
By 1969 Bord na Móna was advertising UCEE seed and potting compost at 7/6d a bushel (that's 4 pecks, or if you prefer 35.24 litres) bag, and the first mention of the famous "Shamrock" brand in an ad was in a Móna Peat Moss promotion of July 1959, around the time when that product was making its initial headway in the mushroom growing industry.
Milled peat, the eventual saviour of Bord na Móna, was first mentioned thus in Inniu in September 1958:
"Is Cuis athas do Bhord na Móna bheith i gcomhair le Bord Slathair an Leictreachais, mar sholtari Móna Meilte don Staisiun Guite Nua ag Fear Ban".
The other Irish dailies carried similar aspirations in English some days later:
"Bord na Móna, as suppliers of Milled Peat to Ferbane Power Station is proud to be associated with the ESB in realization of the important national project."
Bord na Móna had entered the modern era -with milled peat as its major product -and eventually Radio and Television publicity would dominate the advertising market. Having perused all the old ads however, one particular one stands out as a relict of old decency. It appeared in the Leinster Leader of February 12th 1955:
"Bord na Mona acknowledges the receipt of £5 conscience money".
We hope that person with a conscience is still alive today to read this.